2018 TOTAL RAISED £9,217.29
From one extreme to another….  Polo for Heroes 2018 took place on one of the hottest days of the year, a complete contrast from last years rain!
Hosted by Fifield Polo Club, our thanks goes to Julia, her staff, members and guests for their continual support and together we raised a fantastic £9,217.29.
We also had the first Guiness Book of World Records
attempt for the longest hit of a polo ball from a moving horse. All the evidence is being processed at the moment to verify this as a new world record… more on that when all is confirmed.
On to the party and the dance floor was packed all night, dancing to the amazing show band Glitterball.
Sincere thanks goes to everyone who supports this event and to all the volunteers who both help to put the event together and give up their time on the day to make it such a success.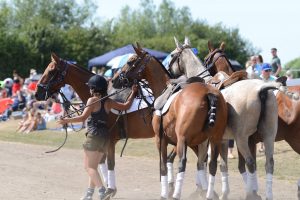 We continue to donate to Help for Heroes and The Irish Guards Appeal Fund along with raising funds for more R&R trips for our injured troops.
The proceeds from the raffle along with an additional donation went directly to Help for Heroes (£500) and an equal donation was made to The Irish Guards Appeal Fund.(£500).
We look forward to seeing you all on Saturday 13th July 2019 for the 10th Anniversary of Polo for Heroes!