2017 TOTAL RAISED £15,013.47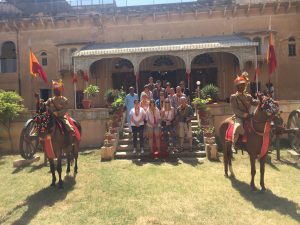 With the Heroes Ride 4 Recovery trip to India in October and a substantial amount of money to raise towards the trip, this year began with a number of smaller fund raising events and sponsored challenges which raised £5,920.87.
In partnership with Venture Co the ride consisting of 6 injured service personnel and 6 self funded able bodied riders who rode through the battlefields of the Shekhawati Brigade in Rajasthan. Certainly a challenging adventure for all which restored both body and soul. The benefit the 'Heroes' gained from this trip is immeasurable and it was both humbling and an honour to ride along side them. Read more about the trip in "The Story" section but here are a few comment from our injure troops: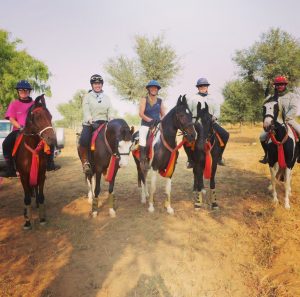 "Being given the opportunity to ride in North India, on an arduous horse safari, combined with the most exceptional hosting and hospitality where I could move through the country, without the use of crutches, while being able to look around me and take in all the culture that Rajasthan had to offer was truly liberating. Not only has this trip proved that physical limitations can be minimised, but it's helped my emotional and mental health recovery too".
"From my very first re-encounter, sitting on horseback had the most profound effect on me and one I hadn't expected in the slightest.  I instantly felt at home and 'in-tune' with my horse both during my lessons and when on the trek itself.  Whilst riding, all life's worries, anxiety, stress, depression and other distractions pretty much evaporated — I hadn't felt so 'normal' for years!  I was truly astonished by the extent that riding could be so therapeutic, liberating and exhilarating. It reminded me how great the World can be. It gave enjoyment and restored some confidence. It gave me hope!"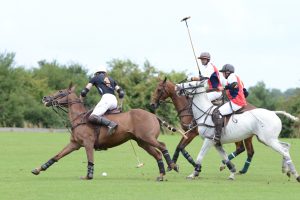 On to Polo for Heroes, the main event, which was once again hosted by Fifield Polo Club and our thanks goes to Julia, her staff and all the members for their continual support which raised £9,092.60.
For the first time in eight years since the event was founded, it rained and I mean it poured! Fortunately it wasn't too cold and we still had a full marquee of VIP guests who despite the rain managed to enjoy the event. The picnic guests were thin on the ground but a few hardy participants still supported us and braved the weather. Sadly the polo was cut short but we still managed to play two of the four games planned before the pitch became too dangerous to play on.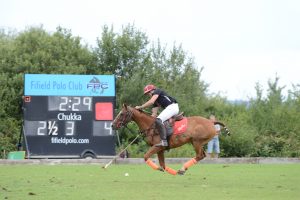 PowerPony, a mechanical horse, put in another appearance and the injured soldiers rose to the challenge of hitting a few polo balls on him.
After a delicious Argentinian style Asado, the bidding commenced for the auction items. Thank you to Karl one of our Heroes for donating his flying suit, it created quite a stir! On to the party and dancing the night away to the amazing show band Glitterball.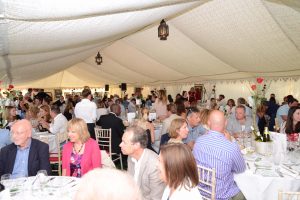 It was fantastic to have the Help for Heroes Phoenix team along again other Heroes join us from the Vegas trips, along with their families.
Sincere thanks goes to everyone who supports this event and to all the volunteers who both help to put the event together and give up their time on the day to make it such a success especially this year in the rain!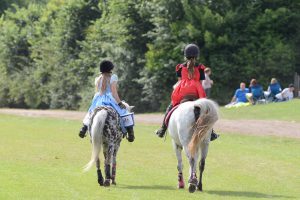 We continue to donate to Help for Heroes and The Irish Guards Appeal Fund along with raising funds for more R&R trips for our injured troops.
The proceeds from the raffle along with an additional donation went directly to Help for Heroes (£500) and an equal donation was made to The Irish Guards Appeal Fund.(£500).
Look forward to seeing you all in August 2018!
For more photos go to: